Developing 21st Century Leaders – Blog Series – PART 5 LEADING THE SITUATION
Ultimately, leadership is about exercising power. The difference between the different types of leadership is where the focus of power resides, that is, how we exercise power. Power is the most important requirement for success.
In our often too-polite world, we are afraid of the word "power". Our automatic reflex is to associate power with evil – it is nefarious, dominating, overwhelming, sleazy, slippery, shadowy.
Social and cultural icons paint a picture of fear: the tempter-snake in the Garden, the licentious goat-footed Satyr, the diabolical Mephisto, the soul-seller Faust, the machiavellian Iago, the malevolent Jinn, the leering Dracula [of movies], and fire-breathing Smaug. The hairs on the back of our necks go up and we shudder at the sound of screeching violins in Psycho – the power of sound and memory.
Of course, the apotheosis of power in a corporate context is Gordon Gekko: Greed, for lack of a better word, is good. At best, we feel that power is ambiguous, like the Arkenstone or the One Ring, which are magical forces for good or evil, depending on who possesses them and how they use them.
However, power is part of every aspect of our lives: our relationships with others, even at the most intimate or most distant levels; our plans and actions, whether conceived alone or in groups; our decisions and their consequences; our very presence on earth and the stewardship we exercise for all our environments, whether familial, social, corporate or ecological.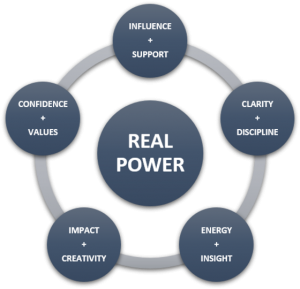 To lead effectively, we must embrace power. So that begs the question: what do we mean by power?
In his Forbes blog What is Power, Really? (Oct 25, 2018), Rick Miller expands on the multi-dimensionality of power. I organize his insights into this model and recommend that you read his blog for fuller insight into each dimension.
Power is a human capability; its effective use is our capacity to lead in different situations. How we use power within context determines how we lead successfully.
We exercise "Power Over", "Power With" and "Power To":
Power Over:
Command-and-Control: Coercive Power
Actors dominated by other actors
Ego-Logical process to change what others do
Master/servant
Obedience
Government: calculated direction of conduct through rules and instructions
Power With:
Persuade-and-influence: co-operative power
Relations of equal actors
Eco-logical process to shape what others do
shepherd/Herd
Dialogue
Governance: leading actors in networks through shared values/goals, negotiation, mutual adaption
Power To:
Empower-and-facilitate: Constitutive power
Chain of processes of acting upon and action
Subjectivation to form the way others form and reform themselves
Coach: Self on self
Liberated counter power
Govern-mentality: steering via autonomous individuals who steer themselves, facilitated by practices, programs and self-technologies
Leading exclusively in Column C [Power To] may be an ideal to strive for but may also be "too rich" for most corporate appetites. Leading exclusively in Column A [Power Over] may be from a dinosaur age [like a mastodon steak] but has merit on occasion. Leading exclusively in Column B [Power With] is probably normative in most corporations but might lack the clout of Column A and the spice of Column C – a bit vanilla. We need all three – power over, with, and to – as the situation requires.
Ultimately, leadership is situational. Given the different circumstances we face, we exercise power in different ways:
Sometimes we need to manipulate the situation: Leadership is the power to manipulate, to be Machiavellian
Sometimes we need to ensure things are administered well [compliance]: Leadership is the power of the system – KPI, SOP, ISO, Codes of Conduct, Codes of Ethics
Sometimes we must manage as professionals: Leadership is the power to plan, schedule, allocate resources, manage processes, make decisions
Sometimes we need to focus on the talents of others to transform the situation for the better: Leadership is the power to motivate.
The challenge: How should I lead in the face of these complexities? To explore the complexity of leading in situations further, you have several options from which to choose:
Take up the leadership challenge: gain insights into your capacity to lead, hone your leadership skills, and develop as a leader, guided by the Leading to Succeed self-directed, online module.
Join me to explore Team Dynamics, learn how to build and lead effective teams. Gain a perspective on how leaders shape team performance, how cognitive biases impair decision making, and how teams can improve their decision-making.
Take up the personal leadership challenge: explore values as a driver of your decisions and develop a greater in-depth understanding of your own personal value system guided by the Values and Leadership self-directed, online module.
Victor Deyglio
Founding President
The Logistics Institute